August 28th, 2017
SIGA Fentrim 20 50/85
The white coloured, single-sided high-performance adhesive tape Fentrim 20 is the optimal solution for permanent airtight bonding of timber wall elements and vapour control layers to solid construction elements from the inside.  Fentrim 20 is pre-folded and available in the size 50/85 mm. According to the rule "less permeable on the inside than on the outside", the black coloured joint tape Fentrim 2 perfectly supplements Fentrim 20.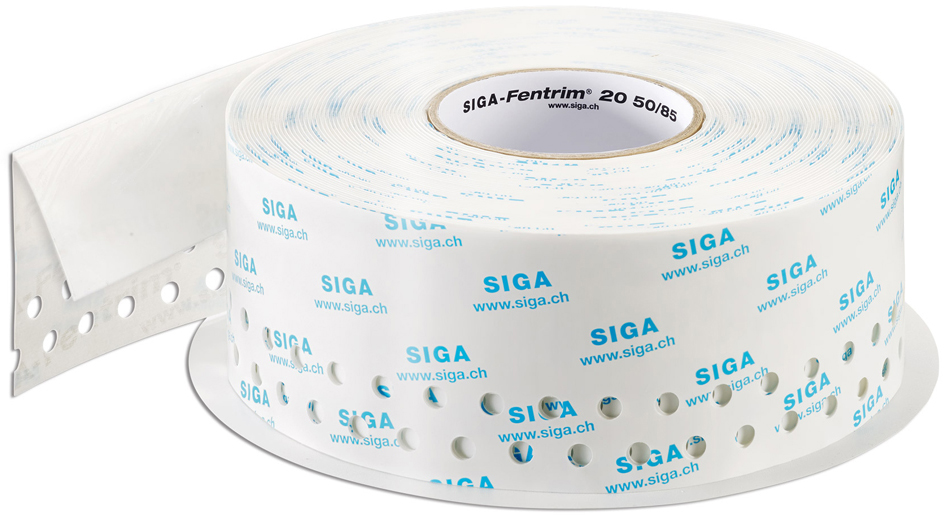 The advantages
extremely high adhesive strength on entire surface – 

easy to apply, immediately 100% tight

pre-folded, without backing strip – 

fastest bonding to building components

non-woven with perforated zone suited for plastering-over – 

strong plaster adhesion on masonry
Fentrim 20 50/85 can be plastered over and its perforated zone provides a strong plastering base on the masonry
Suitable substrates
Wood
Hard wood-based panel materials
Gypsum fibreboards
Gypsum Plasterboards
Concrete, masonry, plaster
Bitumen / EPDM in threshold area
Rigid insulation (XPS/ EPS/ PUR)
Metals
Hard plastics
SIGA Fentrim 20 50/85 is priced at £63.74 + VAT including delivery per roll (minimum order quantity – 2 rolls) or £370.54 +VAT per carton of 6 rolls including delivery!!